Restaurants, cafes, and other food business… fail. All the time.
Why? Most articles you'll find list these reasons: location, lack of people management, lack of accounting skills, bad food execution, poor promotion, poor inventory, etc. While these causes are all true, nobody talks about the number one reason why food businesses fail:
lack of good ideas
Here is where Food Design Thinking comes in. Food Design Thinking methodology provides companies and food designers with all the tools and resources necessary to generate multiple, innovative ideas: ideas for dishes, whole restaurants, events, products, etc.). The content of this process is absolutely unique, and 100% exclusive. You won't find a similar approach to food creativity, or similar tools and techniques, anywhere else.
What Food Design Thinking is:
What is the difference between Food Design and Food Design Thinking?
Food Design is the Design discipline concerned with everything around food and the act of eating. Food Design Thinking is the process that leads to generating new and innovative ideas for any food and eating-related project.
What is the difference between Food Design Thinking and Design Thinking?
What makes Food Design Thinking, is a series of specifically designed tools and techniques. These are designed to trigger creativity for projects around food, and could not, for example, be used in a general Design Thinking process. While it is appropriate to use a Design Thinking process for food projects, I argue that when designing food and around the act of eating, adopting a Food Design Thinking process will lead to better and more cohesively designed propositions.
For whom is Food Design Thinking?
Food Design Thinking is for food companies, food startups, food designers, and food innovators wanting to design new products or solutions.
Food Design Thinking is for all food lovers, from home cooks to professional chefs, food designers, bakers, restaurant managers, food truck owners, and food entrepreneur.
Food Design Thinking is for dreamers… for anyone wanting to explore their potentials within Food Design. Food Design Thinking is for those who want to take their food creativity one step forward.
Here to REQUEST CONSULTING SERVICES or WORKSHOPS
---
Want to try Food Design Thinking first on your own?

Check out FOOD DESIGN THINKING The Complete Methodology:
Amazon.com | Amazon.co.uk | Amazon.de | Amazon.fr | Amazon.es | Amazon.it | Amazon.jp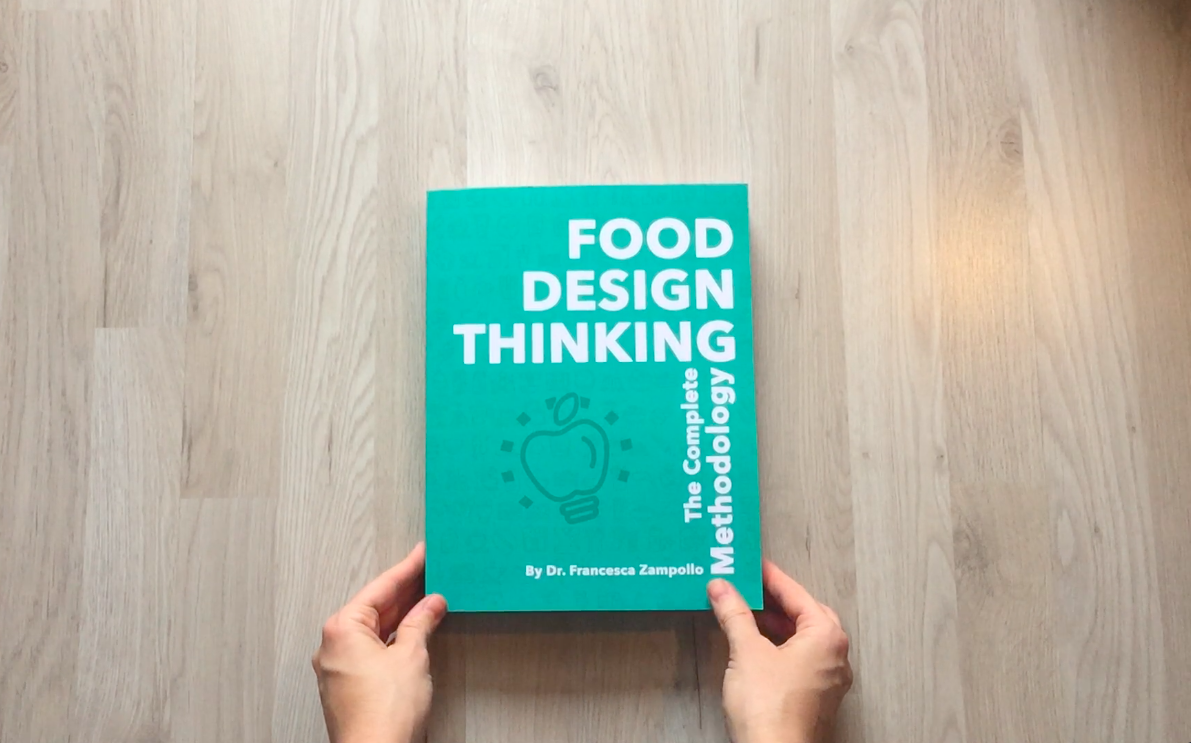 ---
Read and download my published article here:
Abstract:
Within Design Thinking, is there a space for a set of methods that are designed specifically for a Food Design process? Is there a space for a branch of Design Thinking dedicated to Food Design only? We are just starting to understand how chefs ideate, and what recourses are available to them, considering that chefs are not usually trained in Design or Design Thinking. Given the complexity of eating situations, and the many aspects that influence it, a design method that specifically stimulates thinking around many of these aspects, can be very useful. I introduce a design method designed to generate themes on the ideal eating situation (called TED: Themes for Eating Design), the themes it has generated in a previous research, and how these themes have been transformed into a tool for the idea generation phase (called Thoughts For Food). In discussing the positive results obtained by using both TED and Thoughts For Food, I argue that yes, there is a scope for design methods and tools designed specifically for a process that aims at designing food or for eating, and that these methods can be part of a new branch of design theory that I call Food Design Thinking.